June 23 - July 1, 2017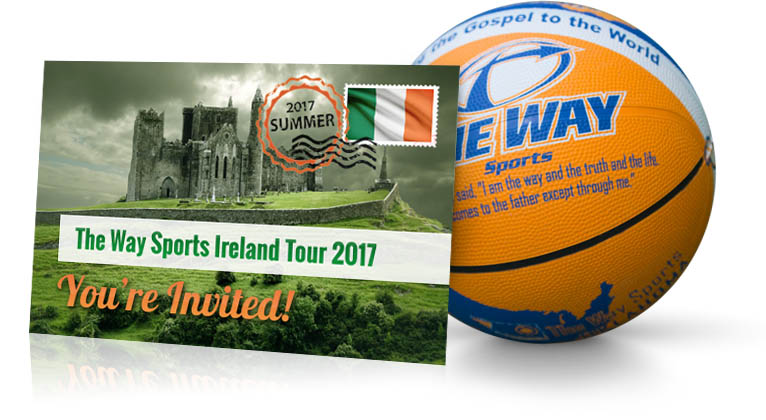 Ireland Basketball Mission Trip
WHEN
June 23 - July 1 2017
WHERE
Ireland
WHO'S INVITED
High school basketball players, parents and coaches from all across Oklahoma
Friday – June 23
Depart Your Home City (early a.m.) - Arrive Dublin, Ireland (early morning)
You will depart the USA on an early morning flight and will connect at a major airport and meet up with others from our group. You will then have an all-night flight to Ireland arriving early the next morning.
Saturday – June 24
Arrive Dublin, Ireland - City Tour
Upon arrival at the Dublin International Airport you will be greeted by the staff of The Way Sports Ministries. After our group has all arrived, we will do a city tour of historic Dublin. You will walk the ancient streets of this storied city with you team. We plan to see St. Patrick's Cathedral, Ha'penny Bridge, Trinity College, Christ Church Cathedral and the famous shopping streets of old town Dublin. In the afternoon, we will drive to our hotel for the week to check-in.
Sunday – June 25
Irish Church Service
In the morning you will to go to a local church service with some of the participants from our camp. After church we will spend the day with local players getting to know them before camp begins. This evening you will hang out with your team and maybe try some Irish Stew at a local restaurant.
Monday – June 26
Killarney Bike Ride - Evening Game
Today we will take a Bike Ride through the Irish countryside. We will ride through the Killarney National Park where you will see Muckross Abbey Monestary built in the 15th Century. This 5 mile bike ride will be one of the highlights of your Ireland sightseeing experience. In the evening we will play our first game against a local club team from the area. After the first game we will have a "school yard pick" for new teams where we will play with the Irish players on each of our teams.
Tuesday – June 27
Blarney Castle - Evening Game
In the early morning we will visit Blarney Castle. Here you will see one of the most famous castles in the world. Built in 1446, Blarney Castle is the place where you will have a chance to "kiss the Blarney Stone." We will then travel the short distance back to Cork where we will prepare for our second evening of games.
Wednesday – June 28
Dublin Basketball Camp - Day 1
In the morning we will make the two hour drive back to Dublin where we will conduct an evening camp with local 12-18 year old athletes. During the camp you will have several opportunities to give your testimony and tell what Jesus has done in your life. Be prepared to share your faith.
Thursday – June 29
Dublin Basketball Camp - Day 2
You will have the morning free to explore Dublin with your coach and team In the evening we will continue our basketball camp. Tonight we will continue the good news message of Jesus with the children of Ireland.
Friday – June 30
Dublin Basketball Camp - Day 3 and Final Game
Today we will conclude our basketball camp and have our final game with the local Irish players.
Saturday – July 1
Return to USA
You and your teammates will depart for the USA in the early morning. You will arrive back in Oklahoma in the late evening.
* The purpose of our evening games is to get to know the Irish players so that we can share our faith.
Note: This is a preliminary itinerary subject to changes.